What is yoga?
There are many definitions of yoga; some say it should be defined as 'discipline', but the most widely used translation is to 'unite'. A famous definition is by the great sage Patanjali: 'yoga is the stilling of the movements of the mind'. Whichever definition is given, we can all agree that yoga is a gift, and can give us the tools to help us stay present and mindful of every moment. The practice results in the connection of the body, mind and breath and in the majority of our classes we do that practically through moving our bodies into particular poses and through sequences. Yoga postures (asanas) encourage increased body awareness while also improving strength, flexibility and balance. There are many types of yoga, each with different focuses and benefits, however most revolve around the central idea of movement to release habitual tensions within the body, using the breath to bring good health and to help bring about a sense of peacefulness and oneness to the body and mind.
What types of yoga does Prana Yoga Studio offer?
There are many different styles of yoga, each with their own benefits. Please take a look at our Class Descriptions page.
I'm new to yoga, where do I start?
We warmly welcome new students in ALL of our classes.
Where you start is purely down to personal preference:
If you have never tried yoga at all and don't have an idea of what a yoga class may entail you may prefer to start with one of our 'introduction to yoga' workshops or beginner courses.


If you are recovering from an illness or injury you may find a class which doesn't require lots of movement/ transitions between postures such as a restorative or yin class.


Or, if you've been to one or more classes before and have some previous experience of a breath-led practice then you are welcome to join in any of our classes. Again, if you take a look at our Class Descriptions or Events pages or perhaps find a teacher who can do a 1-1 lesson to discuss a more personally tailored way to practice.
I'm not flexible – can I do yoga?
Absolutely! In fact, you are the perfect candidate for yoga. Give it a try and over time you will notice that yoga helps you to become more flexible. Every 'body' is different, so never feel the need to practice poses exactly like the teacher: they are only there as a guide (and have been practicing yoga for years). Listen to your body, don't force yourself and stay within your limits. Similar to any exercise program, if you have any particular conditions, are on medication or recovering from surgery etc., you may wish to consult your doctor before beginning to practice yoga.
What do I need to practice yoga?
Wear comfortable, fairly close-fitting clothing you can stretch in, not too baggy or trousers that are too long. Leave your shoes and socks on the shelf outside and practice on one of our mats, or you're welcome to bring your own. Yoga mats are ideal, as they are "sticky" and help prevent sliding. We provide mats and props so you can try before you buy!
What are the benefits of yoga?
Seriously, too many to mention. Here are a few: yoga practice can help to develop strength, stamina, flexibility and posture, helps to soothe and de-stress the nervous system, counter acts many chronic and acute conditions and ailments. Regular practice not only increases your energy but also promotes emotional and mental well-being. Pretty soon you'll wonder how you ever lived without yoga!
How do I book?
You can book our classes, courses and events online here. For our 100hr and 200hr training programmes please contact Carla on This email address is being protected from spambots. You need JavaScript enabled to view it.
Pre-paid packages
Classes can be booked as a one-off or, if you'd like to attend classes regularly, a good option is to purchase one of our prepaid packages. Take a look at our pricing page to see which package suits you and buy a class pass. It will work out cheaper than a single class and you can then use the credits for any class you wish to book.
Passes currently available are:
Prana Class Pass- For any class over 60 minutes (except Ashtanga Weekdays)
Short Class Pass- For any class under 60 minutes
Ashtanga Weekdays Pass- for early morning weekdays Ashtanga Vinyasa Self Practice
The spaces are limited in each class we appreciate it if you can book your class in advance.
When should I practice yoga?
This is entirely up to you, however, avoid eating 3-4 hours beforehand. This is because you may be twisting, bending and turning upside down - things that are not very comfortable with a full tummy.
How do I get there?
Our Studio is located at
110 Cadzow St,
Hamilton,
South Lanarkshire,
ML3 6HP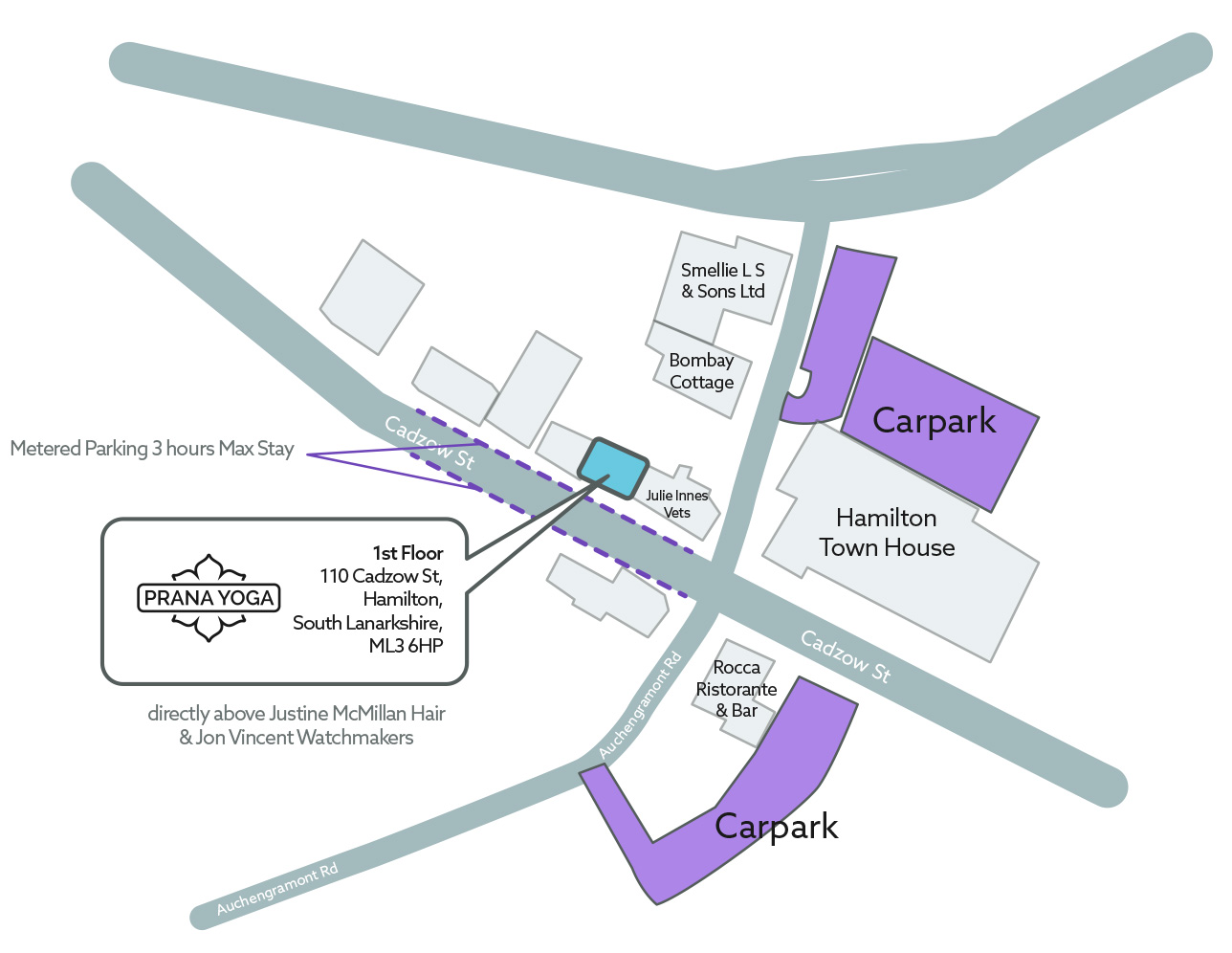 In the heart of Hamilton town centre, Prana is a 10 minute walk from Hamilton Bus & Central Train Station, has on- street parking (metered between 8am-6pm), there are metered car parks (marked above in purple) and is close to the other town centre car parks.
Class Etiquette:
Please arrive on time but no more than 10 minutes before your class is due to start. 

Please switch off ALL electronic devices (phones, watches, alerts, alarms), even if it's in a locker.

Please be respectfully quiet while classes are in progress.

Please make sure your shoes, jackets, bags & brollies are stored in the allocated spaces within the hallway & reception area.
Please remain at class until the end- it's the best part!

Namaste! (which, incidentally means May the Divine Light in me reflect and bow to the Divine Light in you : )