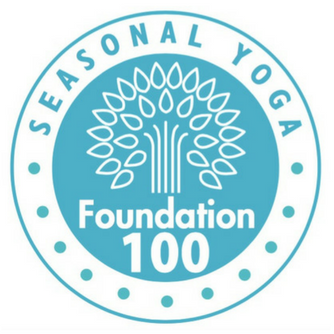 NEXT COURSE STARTS 31st AUGUST 2019
with Fi Shepherd and Carla Webster

Our 100 Hour Yoga Foundation course is primarily focussed on the physical practice of yoga and is for you if you are at the beginning of their journey or if you're ready to delve deeper into your yoga practice.

The course is split 50:50, that means 50 hours of teaching from us and 50 hours of self practice and self study from you.

Half of the course is your contribution at home. We will help you to build a home practice, month by month leading you through a plan of action until it becomes a habit, integrating yoga into your life. 50 hours might seem a lot but that's less than 3.5 hours a week for a healthier, fitter, more balanced self!

Included in the course:

45+ postures and how to practice them meaningfully and beneficially,
An introduction to the elements of nature and how they feature in living a balanced day to day life,
Yoga flows based on the 5 element theory, 
Basic breathing techniques,
Introduction to meditation techniques and encouraging a daily practice,
Reading lists & book discussions,
Understanding the physiological body systems,
Lifestyle tips for wellness and vitality,
Introduction to yoga philosophy

Module 1, Water: Saturday 31st August 2019
Module 2, Wood: Saturday 28th September 2019
Module 3, Fire: Saturday 19th October 2019
Module 4, Earth: Saturday 16th November 2019
Module 5, Metal: Saturday 7th December 2019
This course is for you if....
You want to handle the daily stress and strains of life in a calm efficient way.
You want to know how to execute postures and pranayama safely and effectively.
You want to develop a yoga self practice and integrate yoga into your life.
You'd like to learn how to meditate or develop your meditation practice.
You'd like to spend 5 months improving your lifestyle, health and wellbeing in a fun and safe environment.

Deposit £150
The balance of the course fees (£475) will be payable prior to the start of the course or can be paid in 3 instalments by standing order of £160 over the first 3 months of the course. 

For more information or to reserve your space e: This email address is being protected from spambots. You need JavaScript enabled to view it. 
To apply today click here

The course is run by 
Fiona Shepherd E-RYT500
Carla Webster E-RYT500

The course was created by Julie Hanson - Seasonal Yoga